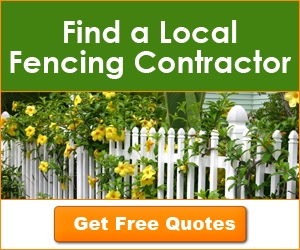 Fence panels are the sections of fencing that get attached to posts. Each fence panel consists of slats, chain link or a mesh material, and two or more rails that run across them. They can be assembled from scratch in DIY fashion, or, more commonly, purchased as prefabricated units. Fencing panels are avilable in a wide range of styles, from ornamental to utilitarian, and for a wide array of applications ranging from privacy fencing to animal containment.
Installing Fencing Panels
Panels are typically sold in 5″ to 8″ lengths. You'll need to measure the total footage of the enclosed property's perimeter, then divide by them your panel's length to determine the number of panels needed. The posts are placed in the ground centered at intervals corresponding to the panel's length — they go between the panels, usually on the inside of the property, and the panels are attached with lag screws. The exception would be the first and last panels, which will either overlap with the first/last post be a few inches, or will be cut to the edge of the post.
Common Fencing Panel Materials
Wood is the most commonly used material for residential fencing, particularly for stockade fences designed for privacy. Redwood, spuce and cedar are excellent materials for wood fence panels that weather better than cheaper wooden fence panels like pine. Bamboo fence panels also weather nicely, and are ideal for decorative garden fencing while being quite affordable.
If you're interested in the look of wood, but would rather not have to deal with the long-term maintenace issues like moisture damage, rot or chipping, consider vinyl fence panels. They're lighter, weatherproof, and already colored (and therefore don't have to be painted).
Metal fence panels come in a variety of styles. Like vinyl, aluminum panels require no painting. Also like vinyl, aluminum fence panels are impervious to rust. Aluminum provides a similar look to wrought iron fence panels with a much lower price tag. Aluminum panels are easy for home homeowners to install themselves, since they're usually sold with a posts that are prepunched for simplified attachment. Mesh and chain link fence panels are usually meant for sports, animal containment, crowd control and other temporary fencing rather then residential applications.
Concrete Fence Panels
Panels for precast concrete fence walls are by far the most strongest, heaviest and most expensive material, with individual panels often costing more than entire fences made of wood, vinyl, or even wrought iron. More often than not, concrete walls are intended for commercial enclosures. For residential fencing, they're more commonly found in Great Britain than the United States.